Click for Body painting works
Mire Cuerpos pintados, Body painting
Welcome, Bienvenidos, ברוכים הבאים欢迎, 환영 , Velkommen !!!!

La casa de Ester es una escuela de Español para extranjeros en Open Door (Lujan) Buenos Aires. Brindo un servicio especial y personalizado... para anglo y hebreo parlantes.
Ester´s House is a Spanish school for foreigners in Open Door (Lujan)Buenos Aires. I bring a personal and special service... for English and Hebrew speakers.
לימוד ספרדית בבואנס איירס&nbsp קורסים אישיים בזמן הקצר למוצ'ילרים מורה דוברת עברית
Study and Optimize your stay...Brush up your Spanish while you go sightseeing ...Plan your trip talking with an experienced advisor... spanish lessons in buenos aires are a must in your journey, study spanish and Enjoy Porteños culture
Book in advance!!!
A Famous Tango coffee shop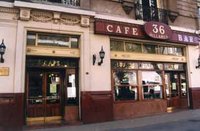 *Jeg har lært spansk på en berømt tango restaurant private timer*
Estudiar Español en un famoso café tanguero es una gran experiencia que nunca olvidará !!!

Learning Spanish in a Traditional Tango coffee shop is such a great experience you´ll never forget !!!

Spanisch lernen in einem traditionellen Tango- Kaffehaus ist eine großartige Erfahrung, die sie nie vergessen werden

Espero que Usted encuentre toda la información y nos encontremos en su próxima visita a Buenos Aires.

I hope you will find all the information you are looking for and I look forward to meet with you in your next visit to Buenos Aires

.

스페인어 ...西班牙语.
La casa de Ester

Buenos Aires* Argentina

Ester Offers intensive and regular courses for Groups and one-to-one lessons and travel services.Instruction on Grammar and conversational Spanish language. Online lessons.Learn the subjunctive mood secrets!

לפרטים נוספים

Skype: Macachae

Phone: +54 (011)15-3881-5962
| | |
| --- | --- |
| | |